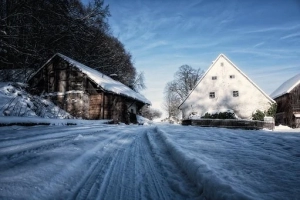 Although work never really ends when you live on a Virginia Farm, the winter months may seem to move at a slower pace. Not to worry, below you will find a list of 10 things to do during the winter months to stay warm, cozy and stave off boredom.
Grow Vegetables
Although most harvesting takes place in the fall, there are vegetables that thrive in colder months. Greens such as kale, bok choy, collards and swiss chard all do well in cold weather. In order to prevent the plants from getting crushed by snow you will want to protect them. This brings us to idea number 2.
Enjoy Building and Crafts
Get back into your building and/or craft hobby that you may have had to set aside during the busier warmer months. One project could be a hoop house. This is an arch that you create to go over your plants to protect them during the snowy winter weather. They can be created simply by using pvc piping and plastic or you could get a bit fancier – the choice is yours. The point is you will now have a little time on your hands to build it. 
Knitting and Crochet Projects
From afghans to sweaters to hats and mittens, there are a plethora of cold weather projects to knit and crochet. Since the weather has cooled these wooly projects will help keep you warm and will be lovely gifts to share with friends and family. 
Sewing and Quilting Projects 
Like many of us you may set aside garments or household items that have holes, rips or tears to mend later. Now that the weather has turned colder it is the perfect time to pick up your sewing box and mend those items. You will be happy to add these well loved garments and household items back into rotation. Quilting like knitting and crocheting is a wonderful winter craft and the end product provides beauty as well as warmth and is a wonderful project to work on as your outdoor farming activities slow down. 
Making Candles 
Candle making is a great hobby but if your farm is also an off grid homestead, then making candles in the winter months is a perfect project. It will provide you with much needed light during the short winter days. Even if your farm relies on the town's electric grid or you have a generator, candles will still add a soft cozy glow to your home's interior and also make a lovely gift for friends and family. 
Seed Shopping and Garden Planning
The harvest has ended and the days are slower, now is the time to sit down and plan out your garden for spring. Take stock of seeds that you may already have on hand and order seeds that you will need when springtime arrives. If you practice crop rotation, now is the time to decide what crop to move where and what plot to leave fallow. 
Creating homemade bath/body products and house cleaning products
These days everyone is a little more conscientious about what they are putting on their bodies and what they are using to clean their homes. The colder and darker winter days are the perfect time for a little self pampering. Whether you decide to make some lovely soaps, lotions or bath oils for a little me time or you decide to make your own fancy scrubs, soaps and sprays to clean your home with, you can't go wrong with natural products that make you feel special and allow you to breathe a bit easier. 
Reading and Writing
Have you always wanted to write a book or begin a gratitude journal? Do you have a pile of unread books that you've been meaning to read someday? Someday is here. Pick up your nicest notebook and pen and start writing that book or journal. Call some friends and start a book club so you can discuss the books you read. Chances are your friends are looking for some fun wintertime activities as well. 
Cooking and Baking 
In the summertime, we seldom feel like slaving over a hot stove or oven. Winter however is the perfect time to create your casserole masterpiece or bake up a batch of your famous chocolate chip cookies. It'll help warm up your home, put a glow in your cheeks and will lead to a very happy number 10. 
Spend time with family and friends.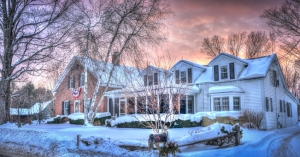 Use the down time that winter provides and spend some quality time with friends and family. Institute family game night or movie night, invite friends over for warm drinks and share all of the wonderful casseroles and cookies you made earlier with the ones you love. 
Having a Virginia Farm house is a wonderful experience allowing you to spend time in nature while living a cleaner, healthier life. As you begin to live in harmony with the seasons you will find that although there is never a time when your Virginia Farm runs without you, the winter season comes with a slower pace that allows you time to focus on yourself and your family. How will you spend the winter months?